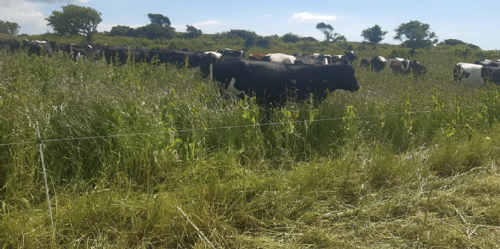 Farm walk with Andrew Rees, 2022 Soil Farmer of the Year Runner-up.
About this event
Based in Haverfordwest, Andrew is dedicated to maximising the potential of his soil to benefit the health and productivity of his dairy business. Through implementing rotational grazing systems alongside diversifying leys with herb rich species and legumes, Andrew has reduced fertiliser rates, improved herd performance and the resilience of his land.
The farm walk will begin at 14:30 and will finish around 5pm. It will provide an opportunity to see how Andrew's management strategy has benefited his livestock and business, leading him to be awarded the Runner-up title in this year's Soil Farmer of the Year competition.
The event will take place outside and refreshments will be provided.
How to Book
To sign-up please complete the eventbrite form here: https://www.eventbrite.co.uk/e/soil-farmer-of-the-year-farm-walk-andrew-rees-runner-up-tickets-379584987917
If you have any problems, questions or queries please contact Emma Adams (emma.adams@farmcarbontoolkit.org.uk)